What You Should Know About MMA Shorts
MMA shorts are basically the shorts worn by a Mixed Martial Arts fighter in the gym or during a competition. That much is obvious. What is not so obvious is the level of detail and craftsmanship that goes into designing MMA shorts. They are certainly more sophisticated than your random pair of shorts. In this article we discuss MMA shorts and also tell you where to buy discount MMA shorts from.
Discount MMA shorts are designed to take considerable punishment, which they will no doubt receive during the course of an MMA match or during MMA training. They are also meant to offer total comfort and uninhibited movement.
They are meant to be safe as well, a lot of effort is taken to ensure that the discount MMA shorts don't rip or tear up suddenly, at the most unfortunate moment, leaving the MMA fighter too embarrassed to fight his opponent and become the butt of all jokes at the gym! While MMA shorts are more expensive than soccer or basketball shorts, it is possible to get great deals on discount MMA shorts as well.
What are the main features of MMA shorts?
Stretch Panels: The stretch panels are made from a spandex type material. They are built in the MMA shorts to allow the fighter a full range of unrestricted movements without any tearing or ripping.
Split Seams:  The split seams provide a much greater comfort and allow unrestricted movement for MMA fighters who are big in size, with m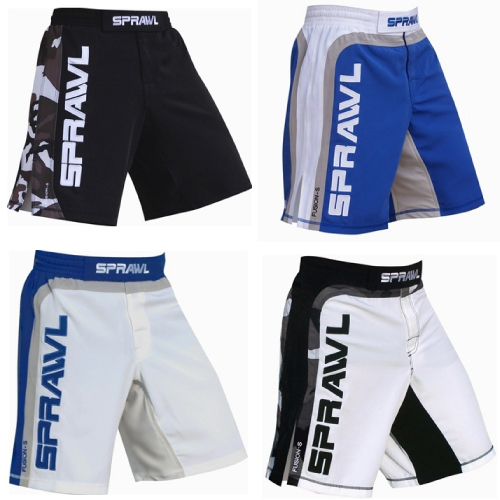 assive thighs.
Dual Velcro Fastening:  Dual Velcro fastening ensures that the MMA shorts are always secure, and near rip or tear.
Lightweight and Quick Drying Material: It is important that MMA shorts should be made of lightweight material that dries very quickly because MMA fighters sweat a lot during a fight and their shorts get very wet. Also, sometimes the MMA fighter may bleed, in which case you want the MMA shorts to be made of fast drying material. You don't want the MMA shorts to be too absorbent.
Rubberized Waistbands:  You won't find discount MMA shorts with Rubberized Waistbands, but some of the pricey varieties have them. The idea is to provide an extra grip around the waist and reduce the movement of the shorts while the fight is going on. Certainly, all professional MMA fighters wear MMA shorts with rubberized waistbands.
Let's have a look at some of the best MMA shorts brands out there. Most of these companies offer discount MMA shorts that are reasonably priced.
Throwdown MMA: This is a relatively new entrant into the world of MMA shorts. Products from Throwdown MMA are known for their elasticized waist, inverse satin feel and stretch crotch panel. They have a Velcro fly as well.
Sprawl: Many professional MMA fighters wear MMA shorts made by Sprawl. This is an established brand which has been in business for several years. The MMA shorts made by Sprawl are highly advanced, with fabrics of the best quality that last long.
Koral: Koral is another excellent maker of MMA shorts that have a Velcro closure waist and come with an internal tie. They are made of rugged poly-cotton cloth and last years.
Bad Boy MMA: Bad Boy MMA Shorts are quite popular for their advanced 4-way stretch technology. They are among the most sophisticated MMA shorts available out there and cost quite a lot.
Clinch Gear: If you are looking for high quality discount MMA shorts, then Clinch Gear should be #1 on your list. MMA shorts made by Clinch gear are rugged,
durable and do not tear easily. They are ideal for a competition or for training sessions.
You will find all the information you need on MMA and MMA training gear here at allbestmma.com.
I wish you all the best, and remember that if you have any questions or comments you can post them in the comments section at the bottom of any blog post. It's great to hear from you.
Kind regards,
Emanuel
Founder of Mixed Martial Arts
www.allbestmma.com
Share This: