What should you look for in a Brazilian Jiu Jitsu Sale?
All serious practitioners of Brazilian Jiu Jitsu know how important a quality Jiu Jitsu Gi is to them. But there are so many options available out there, knowing which Jiu Jitsu Gi is the right one for you isn't all that easy. If you are in the United States, you will find the best Jiu Jitsu Gi sold by Rollmore, and if you are in Canada, you couldn't go wrong in a Brazilian Jiu Jitsu Gi sale by picking one from Fighter's Market.
So what are your top picks at a Brazialian Jiu Jitsu Gi Sale? We tell you ours. Read on!
Grips Athletics Amazona
The Amazona is the priciest Jiu Jitsu Gi in our list. Is it worth the $178.99 that it costs? Well, it does offer a high quality and a perfect fit, with CoolMax s
houlder and knee lining. The material is durable, strong and comfortable, and does not restrict your movements in any way. There is much to like about Grips Athletics Amazona, so don't worry about the price. Both men and women Jiu Jitsu practitioners will like its slim fit, which looks really attractive if you have a great body. But if you are on the heavier side, this outfit is best avoided.
Adidas 'Contest' Gi
Adidas Contest Gi is made by the biggest name brand out there that needs to introduction. It is only recently that Adidas has been featuring prominently in a Brazilian Jiu Jitsu Sale, and with the Contest Gi, they have a winner on their hands. Adidas has sold products for Brazilian Jiu Jitsu before as well, but they never really caught the fancy of the public. Adidas Contest Gi lives up to the promise of superior quality you expect from Adidas and hence has been quite successful. It is quite roomy in places, but offers a great fit. It is both comfortable and well secured.
Gracie Jiu-Jitsu Pearl Weave Series II Gi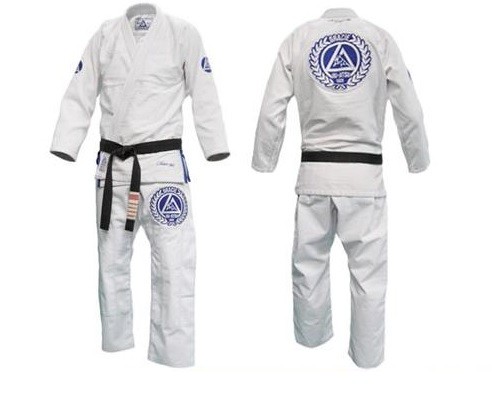 This Gracie Gi has a top made with lightweight pearl weave cotton and pants made from very light twill cotton. What's most likable about it is the high density embroidery on the left thigh and on both shoulders. At $174, it is quite pricey but of an admirable quality. That's why the Gracie Jiu-Jitsu Pearl Weave Series II Gi features in our Brazilian Jiu Jitsu Sale.
Venum Elite BJJ Gi
The Venum Elite BJJ Gi is meant for competitions and was developed by Venum in a collaboration with the popular BJJ World Champions -Leandro Lo and Rodolfo Vieira. The Gi has has very smooth finish so that your opponents do not get any extra touch on it during a jiu jitsu content. The material is very strong and durable and it has been fabricated using pre-shrunk cotton. This Gi is quite strong and resistant to ripping and tearing. Costs between $124 to $165, depending on your size.
Contract Killer CK Discipline Gi
This is one of the best designed Brazilian Jiu Jitsu Gis in the market. It is made of 100% lightweight cotton and has contrast stitching as well as reinforced rip
stop lapels. It is fabricated with 95% pre-shrunk cotton and there won't be a back seam when you wear it. The pants have rope style draw strings. The Contract Killer CK Discipline Gi is approved by NABJJF, SJJIF and IBJJF.
We hope you had fun looking at the collection in our Brazilian Jiu Jitsu Gi Sale. For more on martial arts or martial arts equipment, do browse allbestmma.com.
I wish you all the best, and remember that if you have any questions or comments you can post them in the comments section at the bottom of any blog post. It's great to hear from you.
Kind regards,
Emanuel
Founder of Mixed Martial Arts
www.allbestmma.com
Share This: